Wests Tigers are pleased to announce that Brydens Lawyers Principal Lee Hagipantelis has been appointed as the new Chair of the Wests Tigers Board.
A long-time supporter and Major Sponsor of the club with Brydens Lawyers, Hagipantelis will take up the role effective immediately with current Chair and former New South Wales Premier Barry O'Farrell stepping down to pursue another role outside of rugby league. 
Hagipantelis first began his career with Brydens Lawyers in 1988 before becoming a partner of the firm shortly after in 1994. His standing within the legal community saw him assume the role of Principal of Brydens Lawyers in 2012 which he remains in today.
In addition to his excellent legal record with Brydens Lawyers, Hagipantelis also was appointed an Arbitrator in the District Court of New South Wales and has represented the legal profession on the Injuries Advisory Committee of the Law Society for several years.
A long-standing supporter of Wests Tigers, Hagipantelis and Brydens Lawyers assumed the role of Major Sponsor in 2016 — signed through until the end of the 2021 season.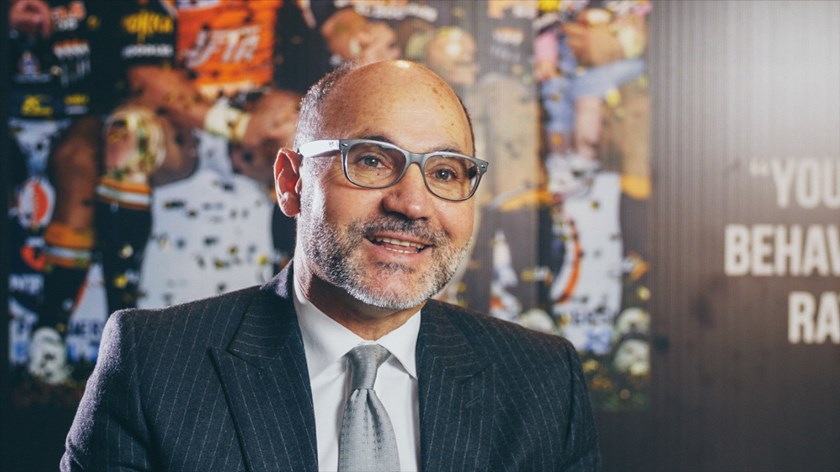 Hagipantelis said he was delighted to take up the role of Wests Tigers Chair.
"I'm extremely honoured to have the opportunity to feature as the Chair of Wests Tigers," Hagipantelis said. "I am both overwhelmed and humbled by the opportunity to contribute to the club in this way and am extremely excited to step into this role.
"As the Principal of Brydens Lawyers, I've had the chance to contribute to Wests Tigers first as a partner and then as Major Sponsor, but this is certainly an exciting next step to take.
"Our wonderful Members and fans can be assured that I will cherish this opportunity and continue to give Wests Tigers my absolute best to ensure this great club achieves the sustained success that it richly deserves."
Be assured that I will cherish this opportunity and continue to give Wests Tigers my absolute best.

Lee Hagipantelis, Wests Tigers Chair
The Board of Wests Tigers welcomed Hagipantelis to the new role as Chair and expressed its gratitude to O'Farrell for his service as Chair throughout 2019.
"The Board of Wests Tigers would like to officially congratulate and welcome Lee Hagipantelis to the club as Chair. Lee has an unquestioned passion for Wests Tigers and his experience and leadership will be an invaluable asset to the club moving forward.
"The Board of Wests Tigers would also like to thank Barry O'Farrell for his professionalism and service to the club as Chair throughout the course of this season. Barry has always displayed strong leadership and guidance in his time with the club and we have no doubt that he is moving on with the club in a stronger position than when he began.
"The Board of Wests Tigers are now excited to move forward in to a new chapter in this club's rich history and continue to succeed on and off the field under the strong leadership of Lee, Justin and Michael."